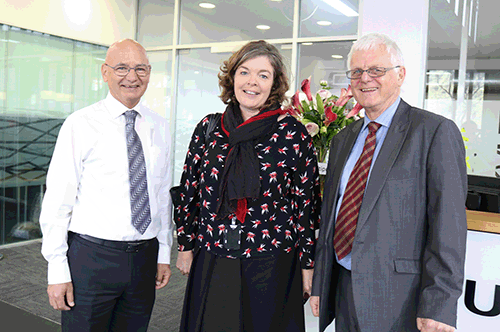 PM's Chief Scientist visits IRANZ at WSP Opus
September 2018: The Prime Minister's Chief Science Advisor, Juliet Gerrard, attended the IRANZ meeting at WSP Opus Research in Petone on 13 September. Prof. Gerrard was very positive about the role of independent research organisations in New Zealand, especially their work in engaging the community with science, their practical focus, and the research work and research centres in the many regional areas of New Zealand.
IRANZ Chairman, Dr John Bright of Aqualinc (left), Prof. Juliet Gerrard, and IRANZ Executive Officer, Dr Rob Whitney. Photo: Louise Thomas.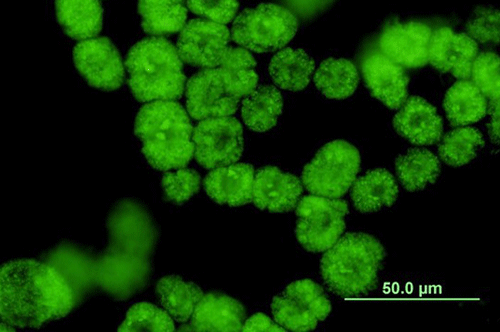 Connections 22 out now!
September 2018: For all your latest independent research news
New science platforms at IROs support nationally important programmes
Changes at Opus Research mean more exciting and innovative projects
Malaghan Institute: The latest science on allergic reactions
Breast cancer research investigating vaccines to prevent relapse
Lincoln Ag: reducing nitrate leaching on the farm
Aqualinc irrigation research shows nitrogen leaching can be reduced
HERA helps get new floor product ComFlor SR off the ground
CSST taps Planet for daily imagery to spur economic growth in NZ
Welcome to our new Regional Research Institutes
Follow us on Facebook! . . . And much more.
Welcome to the Independent Research Association of New Zealand
IRANZ is an association of independent research organisations. IRANZ represents the collective interests of members by undertaking activities aimed at creating a positive operating environment for Independent Research Organisations in New Zealand.
IRANZ member organisations make vital contributions to a broad range of scientific fields, and offer an important complement to university-based and Crown Research Institute research. Our smaller sizes and greater flexibility provide an environment that is particularly conducive to innovation and end-user engagement.
IRANZ member organisations:
Are 'independent' (non-government owned);
Carry out high-quality scientific research, development or technology transfer;
Have strong linkages with end-users;
Work in a diverse range of settings and subject specialities;
Derive a significant portion of their work from Government research contracts;
Collaborate with universities, Crown Research Institutes and research departments of industrial organisations; and
Having varying governance and ownership arrangements.
Find out more about IRANZ and our members by checking out our News page.